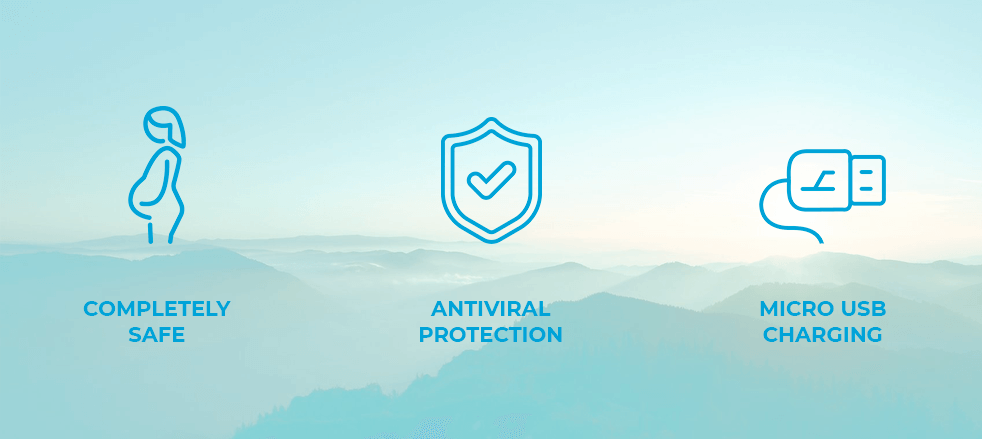 Antiviral and mosquito repellent
Aeriashield Family works without pesticides or chemicals. When placed on a table, it protects you up to 15 m2 from coronaviruses in the air. Aeriashield Family also protects you from mosquitoes and follows you wherever you go.
Technology tested and validated in the laboratory.
Features
Antiviral and antibacterial
Mosquito repellent
No chemicals
Respect for the environment
Rechargeable – USB / micro USB
Autonomy: 32 hours
Charging time: 4 hours
Warranty: 2 years
ANTIVIRAL – REMOVES CORONAVIRUS IN THE AIR *
The Aeriashield Travel handheld device can remove 99% of human coronavirus strain 229E from the air after 5 minutes of operation.
MOSQUITO REPELLENT
Aeriashield generates negative ions that surround the odor molecules.
The anions and free radicals produced in this way destroy the odors emitted by human beings and make us invisible to mosquitoes.
Tested by Institut Pasteur de Lille
A technology tested in the laboratory, in collaboration with the Institut Pasteur de Lille, at the forefront of the fight against infectious diseases for over a century.
Aeriashield by moskitofree is a product with antiviral, antibacterial and anti-mosquito properties, tested in the laboratory.
The service of Dr. Michèle Vialette, head of the service of the Microbiological Safety Unit, head of the high safety laboratory at the Pasteur Institute in Lille, supervised the tests on Aeriashield devices.
The Aeriashield Travel device, tested by the Institut Pasteur de Lille, eliminates 99% of human coronaviruses HCoV-229E in 5 minutes under laboratory conditions (95.8% in 10 minutes for the Aeriashield Family) *. The human coronavirus HCoV-229E is a different coronavirus but from the same family as the causative agent of COVID-19, SARS-CoV2. * sealed enclosure of 1.4 m3 without air exchange.
Following these extremely positive results, a collaboration protocol was signed with the Institut Pasteur de Lille in order to constantly improve our products and launch the worldwide distribution of Aeriashield – now with antiviral, antibacterial and mosquito repellent properties, which can become an effective protective complement against other coronavirus strains, such as Covid19.